***BOOK NOW***
58km multi-disciplinary event consisting of:
15km Cycle – 2.5km Run – 500m Kayak – 2.5km Run – 21km Cycle – 4km Run – 13km Cycle – Total 58km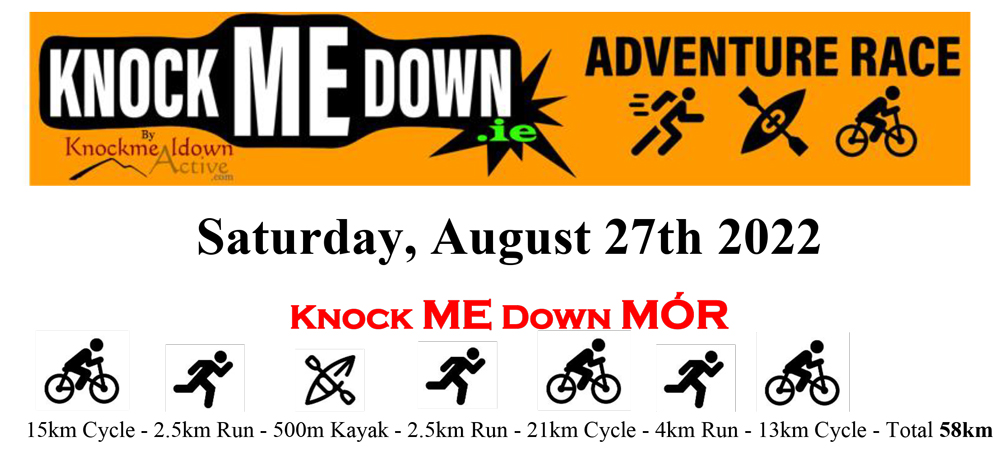 Note: the 2022 MÓR course differs from earlier versions of the event. In previous years, it began with a run at Newcastle. This 4km run is now taking place around the beautiful environs of Mount Melleray Abbey, on the far side of the Knockmealdown Mountains. This splits the final cycle into two cycles of 21km and 13km either side of this 4km run.
Event Overview:
The breakdown of the Knock ME Down MÓR event is as follows:
15km Cycle from Newcastle to Kilballyboy Wood car park/picnic site on Vee Road outside Clogheen
2.5km run/walk from Kilballyboy Wood to Baylough
0.5km kayak around Baylough
2.5km run/walk from Baylough to Kilballyboy Wood car park (different return route)
21km Cycle to Mount Melleray – turn left exiting Kilballyboy Wood
4km Loop Run out of, and back to, Mount Melleray Abbey
13km Cycle from Mount Melleray back to Newcastle
***BOOK NOW***
Start Times: For obvious timing reasons, the MÓR event takes the first time slots, from 8.30am.
At the Start: This year, MÓR participants start the event via the same route as the Challenge event.
The Bike Part
Having started from Newcastle GAA Grounds, after the first 15km cycle you will be automatically timed in the Kilballyboy Wood car park/ picnic area along the Vee road outside Clogheen. There will be bike stands set up here where you simply hang your bike by the saddle on a bar and off you go on your scenic 2.5k run to Baylough lake. Don't worry about your bike, there will be plenty of marshals at this location to keep them safe. There is also a water stop at each changeover point.
Up At The Lake…..
The staggered starting time slots are to avoid delays waiting for Kayaks at the Baylough lake section. This year we will continue with the extended dedicated pontoon used in 2021 to help streamline the Kayak entry and exit points. There is no time-out at Baylough, unless totally necessary. Hopefully it won't be needed.
All Kayaks in the 2022 event are single competitor, rather than double, crafts.
All Kayaks and associated safety equipment will be provided by the Knock ME Down team. Once you have been installed on the 'sit on' Kayak, you can paddle around the lake. There will be floating markers placed around the lake which you will have to stay inside. Local folklore dictates that the lake is bottomless. You may also need to keep a lookout for a lady called 'Petticoat Loose' who, if the stories are to be believed, will come up out of the lake and pull you under……. So best keep as close as you can to the edge, just in case! If anyone gets in trouble out there we have a team on standby so there is really nothing to worry about. If you really don't fancy the Kayak section you can skip it entirely. On doing this you will get the slowest Kayak time on the day, with another 10 mins added to cancel out any advantage you may gain with all that extra energy saved! The Kayak section should take, on average, about 7 minutes to complete.
What Goes Up………
As you get out of your Kayak… with your hands crying out for a break, its time to get back onto the tracks and start your run/walk back down to the Kilballyboy Wood car park. It's a different track down so keep following the signs and follow instructions from the friendly marshals.
Goes up further
Once you get back to the Bike Park at Kilballyboy Wood, you will turn left on exiting, climbing over the Vee as far as Mount Melleray Abbey. This is 21km long.
Another Run???
In the beautiful environs of Mount Melleray Abbey, there will be bike stands, where you simply hang your bike again and off you go on a scenic 4km run around the forests tracks behind the monastery. There will also be plenty of marshals at this location to keep your bike safe. There is also a water stop at the transition zone.
Back to Base
Having finished the run, you'll get back on your bikes again and take on a pretty hefty ascent to 'the County Bounds' – the boundary of Waterford and Tipperary at the top of the hill. From here you'll descend rapidly towards Newcastle village. Careful, it's a pretty treacherous descent. This entire final bike ride is 13km long.
Route map for Knock ME Down MÓR 2022 by Knockmealdown Active on plotaroute.com
You can view this route (with elevations, etc.) on Plotaroute here.
If you can't see the route above, you can find the course on Plot-a-route here. You can also download the GPX files for both events here. Download and unzip them, then upload the required route to your app.
If you use a Garmin, there's a specific way to upload the GPX files to your device, you'll
find the info here
.
Please Note: The 4km run section at Mount Melleray is not included in this map. The route crosses private lands and will only be open on the day of the event. Please find below a simple alternative practice route which runs out the avenue from Mount Melleray and along the Newcastle road, to make up a 4km run.
Route map for 4km Practice Mount Melleray Run by Knockmealdown Active on plotaroute.com
You can view this extra route on Plotaroute here.
Prizes
For the Knock ME Down MÓR there are prizes for:
Male Winner & Runner Up
Female Winner & Runner UP
Event Pricing
Tickets for the event, both Challenge and MÓR, are €85 each.
The Entry Fee cost covers:
Kayak, paddle & boating safety equipment – competitors cannot use their own.
Trained guides & River Rescue on standby
Refreshments at the conclusion of the event
Promotional T Shirt & Completion Medal
For updates, please visit our Facebook page and Like and Share it so that others can also be updated on the event. 
***BOOK NOW***